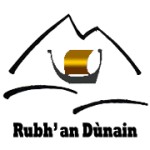 Welcome to Rubh' an Dùnain – a unique historic peninsula on the Isle of Skye in the western isles of Scotland.
Nestling at the foot of the majestic Cuillin mountains and with panoramic views of The Hebrides, Rubh' an Dùnain (Gaelic: Promontory of the little fort; Pron: roo-an-doonan) is a remote land, largely hidden from public view for more than 160 years. Today, after painstaking research by archaeologists and scientists, it has been designated one of Scotland's newest historic monuments and is the focus of international interest. And amid its grandeur and solitude, it is beginning to reveal some amazing secrets.
Take our virtual walk to uncover an astonishing 5000-year history dating from Mesolithic cave dwellers, to Viking invaders and bloody clan warfare. Explore prehistoric archaeology and Iron Age fortifications, examine the remains of a vibrant farming community and ponder over a mysterious stone-lined canal to the sea – documented in exciting new videos.
Repopulation
Leading writers discuss current research. Our history section reveals why the peninsula is of special importance to MacAskills everywhere as their hereditary homeland.
And now, five generations after the last clansfolk were cleared to make way for sheep, you can take part in a dynamic project to help us repopulate this once-vibrant landscape with a new online community.